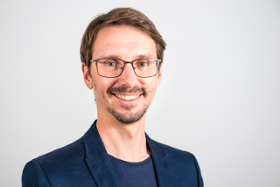 ©
Sabine Mittermeier
Thomas is a postdoctoral researcher in the Software Engineering Group Group (Prof. Lars Grunske) at the Humboldt-Universität zu Berlin, Germany. Previously, he was a doctoral student in the System Analysis and Modeling Group (Prof. Holger Giese) at the Hasso Plattner Institute/University of Potsdam, Germany, where he received his Ph.D. degree with summa cum laude. He graduated with a university diploma in Information Systems and with distinction from the University of Bamberg, Germany. His research interests are in the areas of (search-based) software engineering, model-driven engineering, self-adaptive and intelligent/autonomous software systems, and automated quality assurance of software as well as the combination of these areas.
You can follow me on Twitter via
@tomvog
.
E-mail:
thomas.vogel (at) informatik.hu-berlin.de
Phone:
+49 (0)30 2093-3153
Mail Address
Humboldt-Universität zu Berlin
Department of Computer Science
Unter den Linden 6
10099 Berlin
Visitor Address
Johann von Neumann-Haus
House IV, 4th floor, room IV.414
Rudower Chaussee 25
12489 Berlin
Call for Papers and Artifacts
Consider submitting your work on self-adaptive software systems to
SEAMS 2021
. I am chairing the
Artifacts track
and welcome your submission. Do not hesitate to contact me if you have any questions about this track.
Things Happening
Things Happened
Communities